Deep charge: Group14 breaks ground on Moses Lake factory, looks to electrified future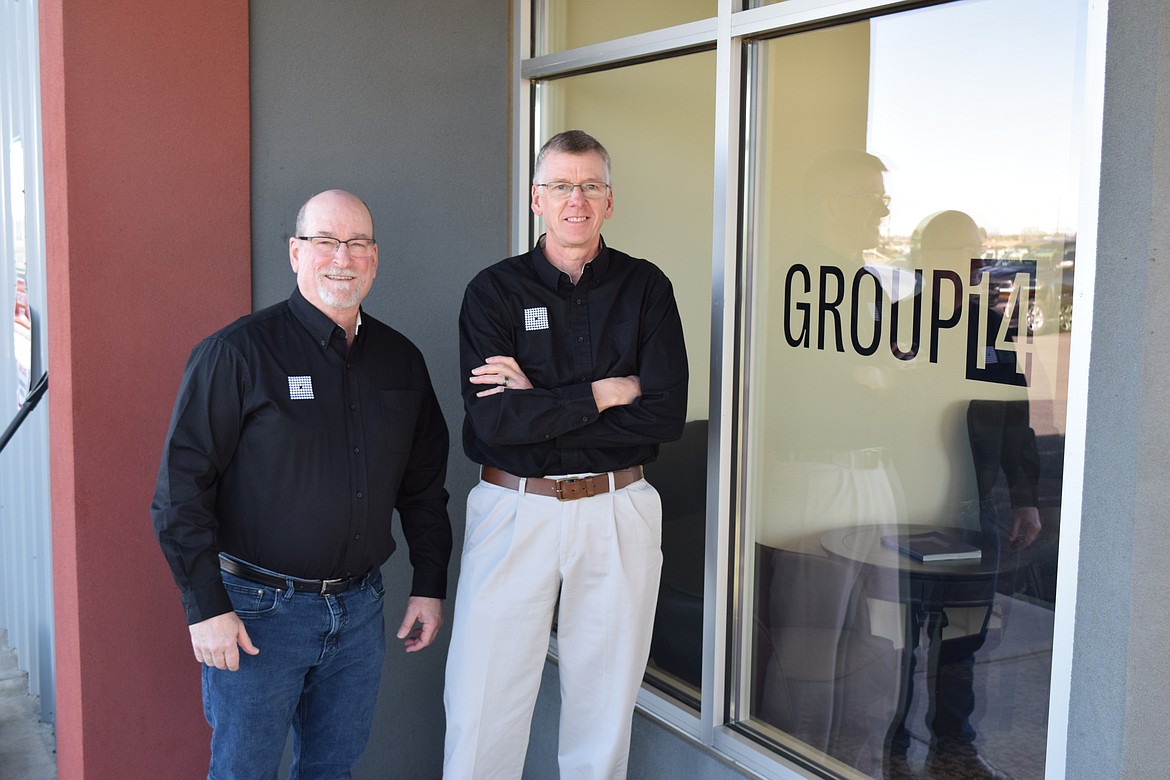 Group14 Technologies Chief Operating Officer Eric Robinson and Chief Engineer Frank Bruneel. The battery technology company recently broke ground for a plant in Moses Lake.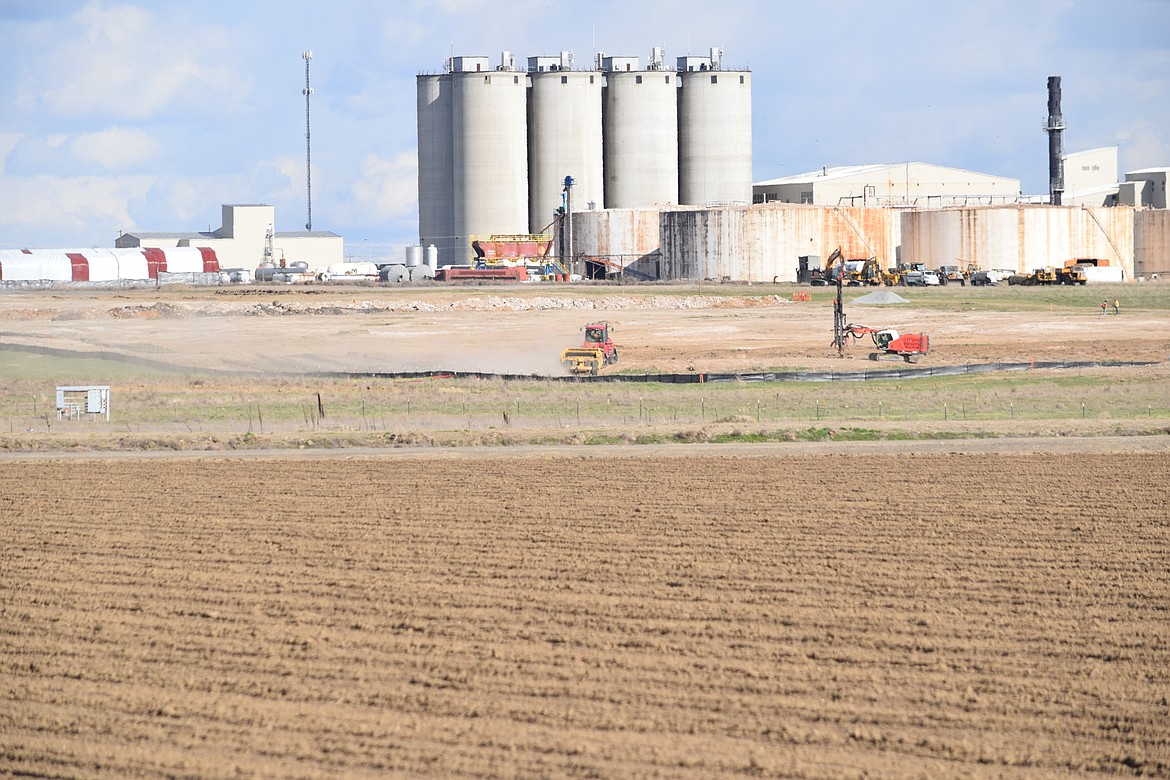 Construction crews grade and prepare the ground at Group14's 44-acre site in Moses Lake, with the old U&I Sugar Refinery — the current Central Terminals business park — rising in the background.
Previous
Next
by
CHARLES H. FEATHERSTONE
Staff Writer
|
May 12, 2023 1:00 AM
MOSES LAKE — Group14 Technologies was begun as something of an afterthought.
"Group14 is actually a spin-off of another battery technology company called EnerG2," said Eric Robinson, the chief operating officer for the Woodinville-based battery materials startup. "The silicon-carbon composite, that idea came out of EnerG2, and they really thought it had promise, but the people who bought EenrG2 weren't really interested in that technology."
Robinson sat in what is still mostly an empty office building on Wheeler Road. There's little in the way of furniture or accouterments in these bare offices — laptop computers with external monitors sit atop folding plastic tables. The nicest things anyone has are their Aeron-like office chairs and their company shirts and jackets.
It's taken more than a decade of hard work to get to this place where Group14 can make its signature silicon-carbon composite in industrial quantities, Robison said. But after proving they can in Woodinville, and with a factory nearing completion in South Korea, the company has wasted no time in Moses Lake, wrapping up the purchase of 44 acres in Moses Lake and quickly breaking ground in March 2023.
"What you're about to see over here … this will be very large scale, the largest of its kind in the world for silicon battery technology. And so that's what we're doing," Robinson said.
Batteries remade
Silicon represents a game changer for the rechargeable battery industry, allowing the lithium-ion batteries used widely in everything from cell phones to hybrid and electric automobiles, to recharge faster and hold more power. With Group14 aiming to start production from two full-scale factory modules in Moses Lake sometime in late 2024, Robinson said the company is growing quickly and has already hired a number of production people for Moses Lake.
"We've already hired a number of people locally, including our first operators. Most folks don't recognize and realize what it takes to be really, truly knowledgeable about a process like this," Robinson said. "It takes quite some time."
"We're growing very rapidly, and there's not a week that goes by that there's not four new people I meet," he said.
Robinson said many of those new operators will be trained at the company's production facility in Woodinville and a joint venture the company has with South Korea-based industrial gas producer SK Materials to manufacture the composite in South Korea.
Group14 is one of two companies advancing silicon-battery technologies that are setting up in Moses Lake. The other, Alameda-California-based Sila Nanotechnologies, uses an entirely different technology to produce its silicon material for rechargeable batteries and purchased a large, empty former factory once occupied by Massachusetts-based Xyleco at 3741 Road N NE, just across the road from REC Silicon.
The silicon-carbon composite will be manufactured for battery makers, who will use it to make anodes — the positive side of the battery, where electrons to recharge the battery flow in — in the next generation of rechargeable batteries.
Worldwide reach
Robinson said the Group14 factory module nearing completion in South Korea is nearly identical to the two factory modules Group14 will build in Eastern Washington and will not only allow the company to see how the production process works but also give its newly hired employees an opportunity to learn that process.
"That is in the final construction phases and we're actively heading over there to assist them in commissioning and startup of that facility," he said. "We've already brought on our first operators, and they are training in Woodinville. They're going to be going to Korea and assisting with the commissioning and startup there. They will come back way more knowledgeable than any person we could run through any training program."
Right now, these bare offices are all the company needs as it gets set to build what Robinson and Group14 Chief Engineer Frank Bruneel said will be the largest factory of its kind in the world, with two production modules able to manufacture 2,000 tons each of the silicon-carbon composite every year. It is, however, a complex process that has prompted Group14 to think big and hire as many of the "best and brightest" as the company could find, Robinson said.
It's not a project for the faint of heart, and certainly not one many companies barely a decade old would take up.
"This is what we need for the silicon battery space. It needs this kind of scale," Robinson said. "You think about the kinds of people that build facilities at this scale. It's very, very large chemical companies. The big oil and gas companies would bite off a project this big."
"This takes quite a bit of skill," he added.
Bruneel said Group14 has learned a great deal from its much smaller-scale production facility in Woodinville, but the South Korean venture will also give the company some experience producing its compound on a much larger scale.
"Anytime you scale up a process, you're going to learn things, because you're doing things differently on a larger scale," Bruneel said. "And that's where the risk is, that's where the challenge is. And that's why you need to have good people on your team to help address those challenges."
Robinson said the modular approach to production is becoming more popular in the chemicals and materials industries because it gives producers a great deal more flexibility when they want to expand production.
"One of the biggest issues you run into as a chemical industry operating person is when you want to expand your facility, when you want to grow because your market has grown. It gets difficult because you have to go into the process to actually de-bottleneck it and make it bigger. And that takes downtime, it takes interrupting the entire process," he said.
That's where modular construction comes in handy.
"Now, we're just going to plop down another module. And so modular construction allows us to do a lot of different things that you typically wouldn't do in an industrial process like this," he explained.
For example, Robinson said the company can keep its process running while is builds another module or takes one down for maintenance. While it means the loss of some scale of production, the flexibility more than makes up for that loss, he said.
"It's actually a very, very clever and unique design that will allow us to grow into a market that has very large demand right now and not interrupt existing processes while we're trying to expand," he said.
Training the next generation
Robinson said Group14 is working with Big Bend Community College to help create a program that will train workers to oversee complex production processes like those the company will use. Process control is very similar across chemical and manufacturing industries, with oil refinery workers utilizing many of the same kinds of skills that Group14 will need in its employees to make its silicon-carbon composite or the silicon itself over at REC Silicon, he explained.
"Those process skills are unique and valuable," he said. "It's a great opportunity for somebody who wants to work in this industry. It's a very, very good-paying job. It's a skilled labor job, and in quite a bit of demand."
The company's goal is twofold, Robinson said: to create good jobs in Moses Lake and create an industry in the United States that can ensure the future is made here and not abroad.
"I believe we are creating generational jobs in Moses Lake. I think my grandchildren could work here. Because I have some," Robinson said. "I would love for a young person who grows up in this town to have the opportunity to stay and have a rewarding and fulfilling career in their hometown. That's a wonderful thing to do."
Even as it prepares for mass production, Bruneel said Group14 is not sitting still. The company is putting the finishing touches on a huge research and development facility in Woodinville to continue work on new and better versions of its silicon-carbon composite. In fact, Bruneel said just because company engineers embark on one development path doesn't mean they have forgotten or ignored others that might have promise but need more time and effort to make work.
"There are improvements when you're developing a technology," Bruneel said. "They've got some great ideas."
"The state of this technology is going to move," Robinson added. "We will be in the battery space for years and years and years to come."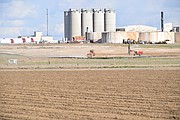 ---